Performances

Moscow Ballet's Great Russian Nutcracker 2014
Friday, December 05, 2014 - 7:00 PM
Mayo Civic Center
---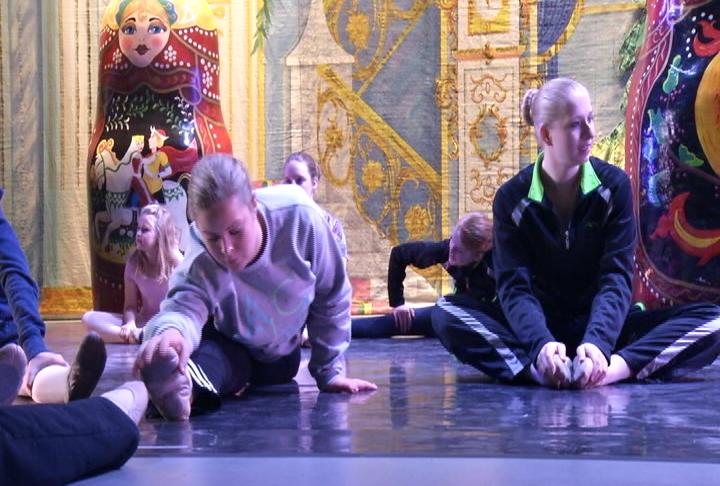 ---
Moscow Ballet's award-winning dancers bring the holiday season to life in Rochester, MN!
---
Moscow Ballet's acclaimed Great Russian Nutcracker will be at the Mayo Civic Center on Friday, December 5th at 7:00 PM.
Exclusive to the Great Russian Nutcracker is the stunning Dove of Peace, with 20ft wingspan, and created by 2 dancers moving as one; Russian folk legends Father Christmas/Ded Moroz and Snow Maiden/Snegurochka who escort Masha and Nutcracker Prince to the Land of Peace and Harmony; life-sized Matrushka Dolls; and whimsical 10ft tall silk puppets. New in 2014 is an authentic Russian Christmas puppet play and Masha's magical Toy Cabinet. Wearing intricately detailed costumes, many with shimmering Swarovski crystals, the award-winning principal dancers and corps de ballet bring Tchaikovsky's master score and the holiday season to life!
Groups of ten or more and Girl Scout troops receive discounts; call 800-320-1733. For VIP and single tickets call Ticketmaster 800-345-7000 or go to www.nutcracker.com/buy-tickets.
---
---
Open Auditions Thursday, Aug. 28th for Dance Students in Rochester, MN!
---
Moscow Ballet announces open auditions Thursday, August 28th, at 3:30 PM for student dancers ages 7 to 16 years at Acclaim School of Dance, 1301 18th Ave NW, Suite 104, Austin MN 55912.
Moscow Ballet's "Dance with Us" Audition Director Olga Aru will be present to select 60 student dancers to perform side-by-side with the professional company of 40 Russian dancers. Students are cast in ancillary roles of Party Children, Mice, Snowflakes, Angels, and more. They will perform in the Great Russian Nutcracker Fri, Dec 5, 7:00pm at the Mayo Civic Center in Rochester. Moscow Ballet is pleased to work with Acclaim School of Dance to make the open audition, rehearsals and performances possible. Applicants must be between 7 and 16 years old, have at least one year of ballet training, dress in dance attire and may bring Pointe shoes. The experience of working and performing with professional ballerinas is often a once-in-a-lifetime opportunity for aspiring dancers. "The payoff at the end of the rehearsals is the opportunity to be part of Christmas magic, to dance under shimmering lights with award-winning Russian dancers against exquisite hand-painted sets. It's great for the kids. They get to dance in a professional production," affirms Margaret Engle of Charlottesville Ballet School. Register at www.nutcracker.com/youth-auditions/sign-up-to-audition . More info: 507-434-0057, JLIB_HTML_CLOAKING
Acclaim Studio of Dance opened in the fall of 2001 the first of its kind in this area! The studio encourages the qualities of respect, teamwork, and love and discourages criticism, or showing favoritism. Acclaim Studio of Dance is family oriented and wishes to enrich each child's life with a positive experience in the performing arts in an environment that is safe and respectful to students in regard to music, movements, and costumes. Instruction is with proper technique and correct stretching. Teaching methods are new and creative and the skills taught at Acclaim are continually updated. Every student receives the same high-level of teaching and attention regardless of their goals. Students perform in a Christmas and spring recital, various community events, churches and also at a summer Musical Theater Camp in a musical production. Students are offered as many opportunities as possible, including: summer dance camps, dance workshops, Cecchetti Ballet (this includes examinations for those interested). There are also award winning competition teams: "Elite Stars", Rising Stars" and "Shooting Stars." Competition teams have been consistent winners at both regional and national dance competitions. Many students have had the exciting opportunity to perform alongside the Moscow Ballet in their acclaimed performance of "The Great Russian Nutcracker." More info JLIB_HTML_CLOAKING or call 507-434-0057.
---
In 1938, the civic leaders of the City of Rochester dedicated the new Mayo Civic Auditorium. This building, designed as a dual-venue complex, provided much needed entertainment for the citizens of a growing community.
In 1998 Rochester voters authorized the extension of the city's 1/2% sales tax which when combined with a bonding grant from the state of Minnesota would offer renovation of the auditorium, adding a north lobby and 25,000 square foot exhibit hall, updating connectivity technology, and updating existing HVAC and finishes.

In 2001, the new 25,200 square foot Exhibit Hall addition was completed, creating a facility of 120,000 square feet.
---